Devotions For A Healthier You by Katie Farrell is a stunning resource. It is a hardcover book with beautiful images complementing some incredible content. This book includes tips, meal plans and recipes aimed at feeding the mind, body, and soul.
In the first few pages, Katie shares Prayers For Health where she takes scripture and turns them into prayers. I love that she added this in there as a great way to show examples of how we can use scripture to help us pray and communicate to God daily. Here are a few of her prayers:
Today I will take care of my body, for I am God's masterpiece, created in Christ Jesus to do good works, which He has prepared in advance for me to do. – Ephesians 2:10

Instead of indulging my flesh with physical cravings, today I will work up an appetite for God's Word. When I choose to fill up on His Word, He will satisfy me more completely than any on this earth ever could! – Matthew 5:6
Then as the book continues, Katie also shares specific scriptures on identity. She recognizes and points out the importance of finding our identity in Christ. Katie encourages the reader to claim these verses in faith. Here are two examples:
I am forgiven. – Ephesians 1:7, Colossians 1:14

I am not alone. – Hebrews 13:5
I think this portion of her book is powerful because most of our daily choices over food, exercise, or even reading the Bible are largely influenced by how view of ourselves and our circumstances. I know I have wrestled with poor choices since I was young. I found comfort in eating high sugar foods whenever life was overwhelming or difficult. I share a vulnerable moment in my book The Unveiled Wife how as a young child my parents were fighting and my mom hands us kids a box of donuts to distract us from the chaos. To this day, whenever I am confronted with trials or tension my body craves sugar. Every day I have the choice to let my flesh win, ultimately ruining my health with poor food choices, or I can claim victory in this area of my life and choose to rely more on God to give me peace than the food I eat. This is not easy for me, but I believe just as Katie believes that we are strengthened and renewed when we trust in God and His Word.
Devotions For A Healthier You includes 71 devotions which are brief and very inspirational to get you thinking about a specific area of life, such as having perfect peace or the importance of prayer. Katie was intentional to cover topics in these devotions which focus on physical and mental health, as well as spiritual health. Each devotion has a verse to lead it, a few paragraphs from the author and a prayer to wrap it up.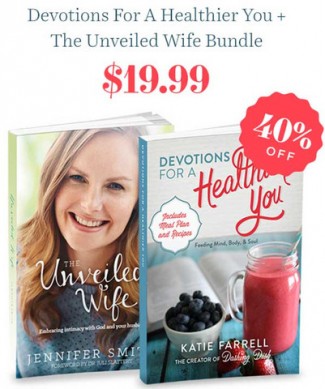 Sprinkled throughout this book of devotions there are some delicious recipes as well as a blurb titled A Dash Of Inspiration where Katie shares a tip or encouragement for the reader that also promotes healthy living.
Towards the end of the book, Katie added a One Week Meal Plan with Recipes and even a grocery list to make it easy to jump start healthy eating.
Katie's book is a great source of encouragement and empowerment for anyone with a desire to be transformed in their mind, body, or soul. Katie does not shy away from the hard topics that burden most of us when it comes to maintaining good health, nor does she shy away from thoroughly sharing about the gospel.
I have enjoyed reading through this book and I made the strawberry banana smoothie recipe provided and it was amazing!
Katie Farrell is the creator of Dashing Dish, a website dedicated to encouraging readers to live a healthy and faith-filled lifestyle. Katie explains on her about page:
Dashing Dish is a place where I hope to share what God has taught me both spiritually and physically over the years to reach a healthy balance. I hope that as I share what He has poured into me, that you will be refreshed with the great love and plan that He has for you! – Katie
I appreciate Katie's passion and willingness to openly share how she has struggled with weight issues and eating disorders, to what God has taught her over the years about trusting Him. Dashing Dish includes a blog, videos, workouts, recipes, membership and more. So when you have a second go check it out and get to know Katie Farrell all the more! DashingDish.com
— SPECIAL OFFER —
For a limited time, Katie and I have partnered together to bring you a very exciting bundle deal. We are offering our 2 new books for a discounted price. To get this deal all you have to do is click here and add the bundle to your cart.
Please don't miss out on this opportunity. This book is such a huge blessing and I want everybody to get their hands on a copy.